Posted by Goto
, 10 December 2007 - 03:30 PM
Sleeeepy, I should start going to bed earlier.
It's been a fairly uneventful week, enjoying not having to do too much. Getting pretty close to Christmas I guess, got no clue about what I want though. Well I guess I should probably pick up one of those charging stands for wiimotes, that'd be pretty handy. Trying to convince myself not to join the trend and buy a sword, it's not like I'd do anything with it anyway. I'm only tempted because of some of the geeky ones available. Stuff like Kadaj's
Souba
, Cloud's (mislabelled)
First Tsurugi
, or of course
Zangetsu
and
Tensa Zangetsu
. That's the site that Darkie got her viking sword from, by the way. The weird thing is that amongst all those swords and stuff they've got a
BFG
.
Catching up with a few friends on Wednesday, I'll have to try to swipe the rest of Gurren Lagann. I really want to see more of that.
Been having a lot of fun playing Mario Galaxy, truly a great game. I think I'm at 57 stars out of 120, only three short from the final boss. Still haven't tried about 20% of the levels though, and I suspect I'll be motivated to pick up all the stars, so it should keep me occupied for at least a while longer. If I had a complaint, it'd be how segmented the game feels. You're always following a very linear path to any particular star, and the game lets you know fairly well which way to go. I know it was a little like this in earlier games like Super Mario 64, but it's much more the case now. And although there's quite a few different powerups, they suffer from this even worse. You'll use the Bee suit a couple of times in the bee-themed galaxy, then almost never see it again. I think I used Boo Mario a total of once, which was in the Haunted Mansion-themed galaxy. It seems like they're introducing gameplay elements one at a time, but not really taking them further.
The gravity mechanics are innovative enough to pretty much sell the game right there, but it's a pity they didn't try to mix things up a bit more. Maybe they will in some of the later content I haven't seen yet, I really hope so.
In other news, I decided I'd try to learn Python, the programming language. Then again I said that more than half a week ago, downloaded everything I needed, spent an hour or two reading some lessons then haven't gone back to it since. I'm so unmotivated to follow through with anything.
It seems like quite a cool language, so I really should force myself to spend some more time with it. Like many other things, this decision was influenced by xkcd.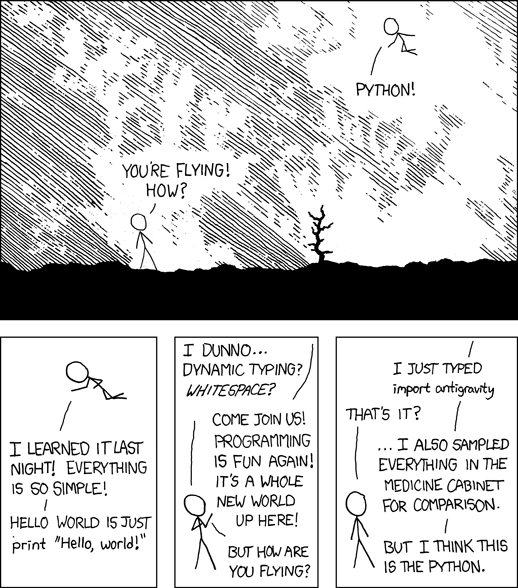 Night all.
0 Comments On This Entry